HOT STAMPING MODELS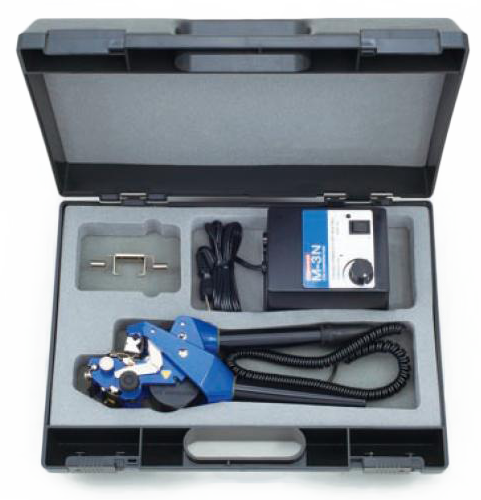 Hand-held type M-3N
Compact and Light Weight
It can be carried with you anywhere, and is suitable for marking work on facilities maintenance, or installation of switchboards etc at the jobsite.
Easy operation for anyone
Just rotate wheels to select characters.
Up to 7-digit marking is possible and you can easily change wheel arrangement.
Marking is done directly on wire jackets, tubing, Marker Labels, etc.
Optional Accessories available for various marking application
When equipped with optional devices (various style of characters, jigs etc), one unit of this tool can comply with various marking requirements.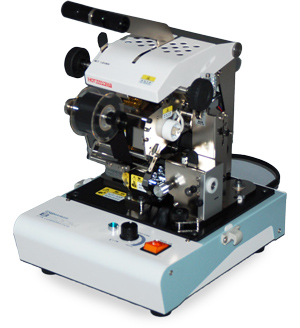 Portable bench type B200M-FC
Easy Operation -- Just Prepare plain tubings & B200M-FC
Set your desired text (Max. 8 digits) on the machine.
Just press down the handle for marking.
The machine hot-stamps plain tubings.
Efficient Production -- Automatic material feeding & cutting unit available
Possible to feed tubes of OD 3-7mm & Marker Labels (long type) and automatically cut into pieces, either partially or completely. Detachable material feeding & cutting units enable easier marking on large diameter tubes (Max. 35mm OD), Marker Labels & Marker Plates (MP-95-25 only).
Compact bench-top design
Useful for electrical-related industries either mass production or on-site service.
Basic specification
Model
Hand-held type M-3N
Portable bench type B200M-FC
Character size
2.4H×2.4Wmm
Character pitch
3.5mm
3.0mm
Number of digits
7-Digit
8-Digit
Measurement
about 280mm(Tool length)
W290 × D290 × H325mm
W375 × D285 × H120mm(Carrying case)
Tool weight
0.85Kg(Main unit only)
11.5Kg